HOW TO STYLE PUFFER JACKETS
Meet your new best friend: Puffer Jackets. These epic pieces are prepared to help you face the cold winds of the season.
Need help styling them? See below on how to pair our puffer jackets with our other stylish pieces.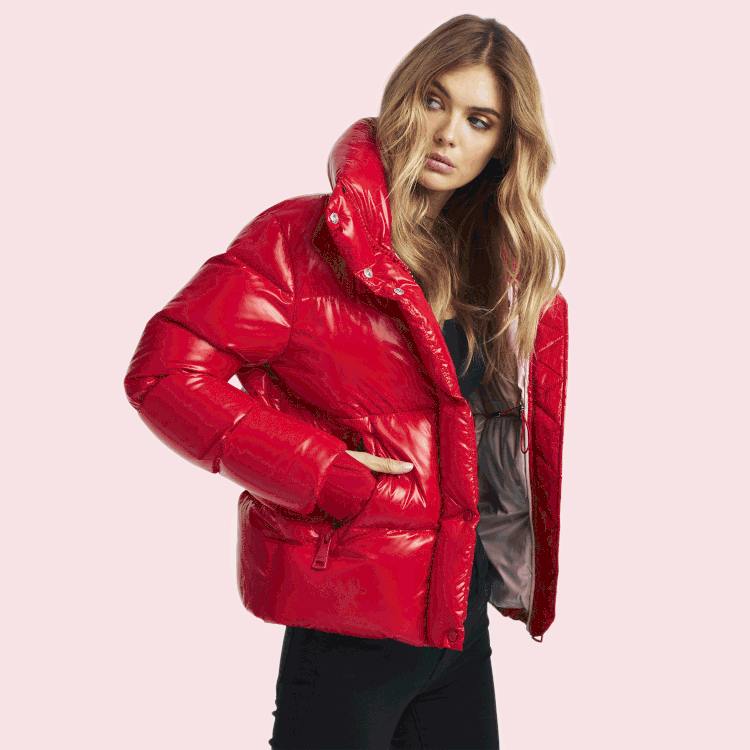 SAM. - ANDI PUFFER - CHERRY
That red bomber for all occasions. A piece that never looks bad. Includes thumbholes and a little pop of pink.
VELVET - BILLA LUXE FLEECE STRIPE HOODIE
There's nothing cooler than these retro-style racing stripes. Made from incredibly soft, lightweight fleece, the Billa hoodie will be on you wherever you go-from your pilates workout to your late afternoon latte run.
VELVET - DIOR ATHLEISURE STRIPE PANT
Get your stripes in a row with the Velvet Dior Athleisure Pant in Black. Silky-soft to touch with red and blue stripe trim along the side seams, they're the perfect union of comfort and cool.
SAM. - STAR FREESTYLE BOMBER
This star-spangled, down-filled fall and winter wardrobe essential is the perfect piece. Jersey cuffs, thumbholes, and a little bit of pizzazz.

P.E NATION - THE WICKET KEEPER CROP
Let's get this workout started with The Wicket Keeper Crop. Double lined with no padding and featuring a racer-back, this crop provides support while offering a maximum range of movement.
P.E NATION - THE HAMMER THROW LEGGING
Hammer throw, javelin, discus? You'll feel like you can take on anything in P.E Nation's Hammer Throw Leggings. Four-way stretch and a reinforced waistband give you ultimate support, while the check on check set and orange piping create a striking look.

Chic, shimmer, we got you no matter where you're off to. This down-filled fall and winter wardrobe essential is the perfect piece. Jersey cuffs, thumbholes, did we say thumbholes?
N:PHILANTHROPY - ZANDER TEE
Made with 100% cotton and hand distressed, this tee will easily be your new favourite thing to put on in the morning. With bold details and a wide crew neckline, dress this tee up or down for a look that's all good all the time.
N:PHILANTHROPY - NIGHT JOGGER STAR EMBROIDERY
Star light, star bright, first star I see tonight. I wish I may, I wish I might, have these sweats I want tonight. Featuring a draw string with elastic waistband and side seam pockets (bonus!)
TOP IT ALL OFF WITH THE GOODBOY - OG TOQUE
Keep your head warm with the official GOODBOY toque. A gotta have for those chilly days and nights.
Want more PAIRING options?